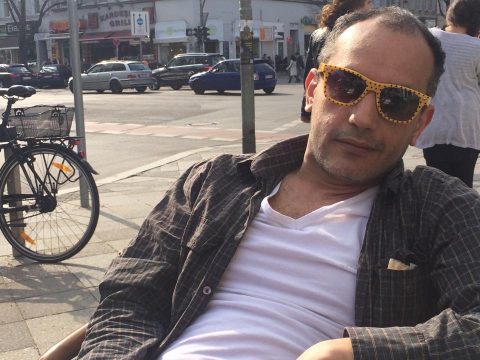 Ziad Adwan absolvierte seinen Masterstudium am Royal Academy of Dramatic Art (RADA) in London (Text- und Theaterwissenschaften) und promovierte über "Mistakes in Theatre" am Royal Holloway in London. Als Dozent vermittelte er Performance Theory, Probensysteme und Maskentechnik am Höheren Institut für Dramatische Künste in Damaskus. Ziad spielte in mehreren Stücken und Kinofilmen (Steven Spielbergs "München" und "Die Hamburger Zelle") und übernahm die Leitung an verschiedenen Theatern. Er war künstlerischer Direktor von "Invisible Stories", einer Serie von Straßentheater-Events, die an verschiedenen Orten in Damaskus stattfanden. Ziad musste Damaskus 2013 aus politischen Gründen verlassen und lebte bis 2014 in Abu Dhabi, wo er als Schauspieltrainer und Berater für Scriptwriting bei der "Twofour54 Production Company" tätig war. Zudem leitete er Workshops zu Schauspiel- und Schreibtechniken. Danach ging er nach Berlin, wo er Workshops mit Flüchtlingen realisierte und schrieb zudem für arabische Zeitschriften über Theater und Film und veröffentlichte mehrere Forschungsarbeiten, unter anderem in "New Theatre Quarterly". 2016 war er Mitbegründer und Kurator für das " A Syrious Look Magazin".
---
Ziad Adwan studied for an MA in Text and Performance Studies at Royal Academy of Dramatic Art (RADA) and King's college in London, and then took a PhD in Theatre Studies at Royal Holloway; his thesis was on "Mistakes and Making Mistakes in Cultural Representations ". Ziad's work comprises acting, directing and writing for theatre as well as academic work. He taught Performance Theory, System of Rehearsals and Mask techniques at the Higher Institute of Dramatic Arts in Damascus/ Syria 2009-2013.
Ziad was the artistic director of Invisible Stories, a series of street theatre events that take place in different places in Damascus. He is currently based between Berlin and Munich. He performs and directs theatre, including text based plays, performances, choreography and community theatre. He is currently affiliated with the Global Theatre Histories Research Project at LMU Munich, and publishes articles in several academic journals.